Contact Us
Please fill name field
Please fill email field
Please enter the numbers:

Please enter the correct digits
Your message was sent successfully
High Speed Laser and Plasma cutting
Welcome to Concise state of the art Laser cutting capability supported by our Bystronic and Mazak equipment with fully automated material tower capability. Laser cutting provides a perfect cut every time for carbon steel, copper, brass and stainless steel without expensive tooling and project planning. Complex contours, small holes and narrow webs come off our lasers clean and burr-free. For consistency and accuracy throughout a job, you can count on Concise International's computer-controlled lasers to deliver. All we need is your CAD / DXF file, blueprints, drawings and / or sample pieces. Cut capability up to 1.0 in / 25.4 MM.
Plasma cutting allows thick plate cutting and Concise Plasma / Punch combo equipment provides the ability to plasma cut very difficult contour and also punch most features for speed / cost reduction on the same equipment. Most materials including aluminum, copper, and stainless steel can be run on this equipment. With our equipment you can utilize materials up to 1.5 in / 38.1 MM thick. Quicker than flame cutting, better edge quality on thick plate Concise International economically produces component parts for a number of our customers.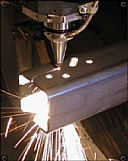 ISO 9001: 2008 Certified